Exclusive
Published: Friday, 22 January 2016
Author: Lynda Harrison
You are driving down a highway, wondering if your engine is going to overheat. Now imagine that instead of having one gauge on your dashboard where you can see your engine's temperature, you have to look at four screens, and one of them is in the back seat while another is in the trunk.
"You can imagine how hard it would be to keep tabs on your engine," says Bret Wiener, chief technology officer at Seven Lakes Technologies.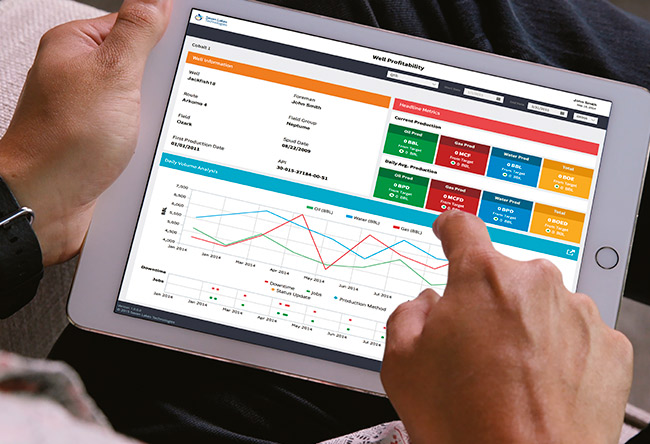 KEEP IT SIMPLE Seven Lakes' software can extract data from various platforms and source systems and consolidate it in one easy to read and digest view. (PHOTO: SEVEN LAKES TECHNOLOGIES)
Instead, cars are made so that readings are taken from sensors whose information is piped to one little gauge that's easy to look at, and with just a glance you know exactly the temperature of your motor and if you're in good shape or not.
"We provide the same sort of thing at the enterprise scale, drawing data from a bunch of different sources within [an] organization and then presenting that data in a consolidated view that is very easy to read and digest, and we enable different users to set up different preferences or filters, so that if you're a user in one business unit, for example, or a field supervisor, when you log in, your personalized dashboard gives you almost instant access to exactly the data that you need to see, which may be slightly different [from that of] somebody in a different business unit," says Wiener.
Seven Lakes' software can extract data out of all the various platforms or source systems companies are already using and consolidate that data under one "hood" for consistent and consolidated insight, he says.
And the user interface of its applications is incredibly easy to use, he adds. "There's nearly no training required with our solution, which means that user adoption is usually just excellent with our products. It's obvious after literally a glance from across the room at the screen you can see these look like the kinds of applications that people are accustomed to from their phones and their tablets and their PCs in their daily personal lives."
With 70 employees and offices in Los Angeles, Houston and Bangalore, India, Seven Technologies provides oil and gas enterprise software that enables data analytics, enterprise mobility, collaborative workflows and field data capture for production operations, drilling and completions, accounting and environmental health and safety.
In market conditions like these, this is a great time for companies to refocus on making their operations more efficient so that when, hopefully, the market rebounds, they'll be in a better position to grow their operations and take some additional market share, says Wiener.
Willson Beebe, lead financial analyst with Concho Resources' Texas basins asset group, has been using Seven Lakes' dashboards for about a year. "I love them. They're really easy to use," he says.
Beebe also likes that he can connect to raw data using Excel spreadsheets. "In my job, I do a lot of analysis so I utilize that probably more than the dashboards because I'm more interested in the raw data, so the ability to use that native in Excel is really good because everybody around here uses Excel and is comfortable with that and understands it, so that's a big plus."
Midland, Texas–based Concho, whose assets are all in the Permian Basin, has grown through acquisitions from about 500 wells to about 5,000 wells in five years and from about 300 employees to around 1,100 employees. Beebe estimates 250 of them are using Seven Lakes' software. Integrating data and wells from many different companies has been a challenge, but Seven Lakes' dashboards have helped, he says.
Al Abeyta, senior business systems analyst for Vanguard Natural Resources of Houston, has been using Data Cube, LOS dashboard and AFE workflow for two and a half years, and the company is still "getting its feet wet" with the production portal after eight months.
"They built our data warehouse and infrastructure that allows us to manage our data from all business applications," says Abeyta. "We love them. We couldn't do what we do without them. We're a big oil and gas acquisition company. We run lean as it is; we're constantly looking for ways improve processes, and reporting is a big deal, so I couldn't imagine us surviving without AFE workflow and LOS dashboard, for sure. There's just no way we could function without those two applications."
He, too, appreciates the software's ease of use, and says the LOS dashboard is laid out exactly how Vanguard, a company with about 10,000 operated wells, wanted it. "It's not just a generic LOS dashboard that the company rolls out to everybody and you just have to change and get used to it," says Abeyta. "We were able to work with them to configure it the way we want it based on how we see our business."
The software enables him to identify potential issues within a matter of seconds and then get results and additional analytics using other tools within a minute or two, he says, adding this is a huge time saver.
"Before, we were massaging data from all over the place," he says. "It would take us a day, sometimes two or three days to get to [where we could] ask certain questions, so now we're able to make smarter decisions, ask more relevant questions and dig down to the lowest level of detail, all within a few seconds."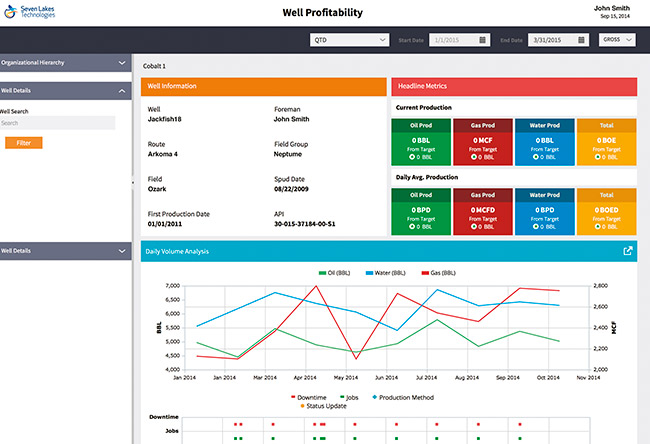 (IMAGE: SEVEN LAKES TECHNOLOGIES)
Based in Westlake Village, Calif., Seven Lakes has about 30 customers with as few as 40 or 50 wells and as many as 40,000 or 50,000 wells.
"In terms of market penetration that doesn't sound like a terribly impressive number," admits Wiener. "I will say, though, that about 10 per cent of all the wells in North America are managed or represented within Seven Lakes' solutions."
Seven Lakes has three broad categories of products: business intelligence (BI), workflows and general business applications. Its most popular dashboards are within its BI unit, and they include production, downtime and expense dashboards like general and administrative, vendor spending and related sorts of things, he says.
The workflows category is designed to help drive higher-quality data so that the analytics and the BI products can be optimized. "We've learned over the years that no matter how good our dashboard products are, they're always at the mercy of the online data," Wiener adds.
Its well life cycle manager application affords workflow enforcement throughout the lifespan of a well. Another product helps businesses control costs by collecting all the data necessary for an authority-for-expenditure and going through an approval workflow.
General business applications are designed to improve analytics. "That really is our value proposition," says Wiener.
One of the best-selling products in that category is called Field Data Gathering (FDG), a product that effectively replaces the grease sheets used by pumpers, he says.
"These organizations all have pumpers who go out and visit wells each day to take different measurements and readings from all the equipment in the field, and the industry for the most part unfortunately is still [using] paper, called grease sheets. Our FDG application replaces that with a mobile application that can run on any sort of a tablet or ruggedized laptop.
"[Pumpers] can take all their measurements and readings within our product with a lot of data validation and cross-check to make sure that all the information they're collecting makes sense. It will run in offline mode because in many cases when they are out in the field, there is no Internet connectivity, but then as soon as they're back in a 3G or 4G area or they've got WiFi access, the application automatically uploads that data back to the computer system and then the information can feed into our production dashboard or other system the organization is using."
One of the problems with using paper is it can take days for data to get into the computer system. Sometimes an operation will stop because something is broken, and the company may not even know about it for days. "Our FDG product helps them collect much better data in a much more timely fashion," says Wiener. "Detecting or even predicting downtime events is definitely one of the things that people tend to rave about with the Seven Lakes technologies."
Often, companies without Seven Lakes' technology in place will continue to run unprofitable wells for a long time before they realize they are unprofitable, says Wiener. "Our production and profitability dashboards can assist with the well-review process, so maybe instead of waiting six months or a year after a well becomes unprofitable, they can either shut it in or sell it off. That's definitely a way they can save a lot of money. Just that alone can typically pay for the cost of our dashboard product several times over."
Recently Seven Lakes and Houston-based Noah Consulting, which has an office in Calgary, joined forces so that Noah is now the exclusive partner for delivering Seven Lakes' well life cycle manager application. "We are information management consultants, so we have a great deal of expertise in the oil and gas domain. They bring the tools and the applications, and we bring the process and the domain expertise," says Amber Charboneau, Noah's marketing manager.
By Lynda Harrison
CONTACT FOR MORE INFORMATION
Sowmya Murthy, Seven Lakes Technologies, Tel: 805-242-4288, Email: [email protected]
Amber Charboneau, Noah Consulting LLC, Tel: 832-689-8600, Email: [email protected]
-NTM-