New players and strategic partnerships, more research and niche products are adding pizzazz to one-obscure sector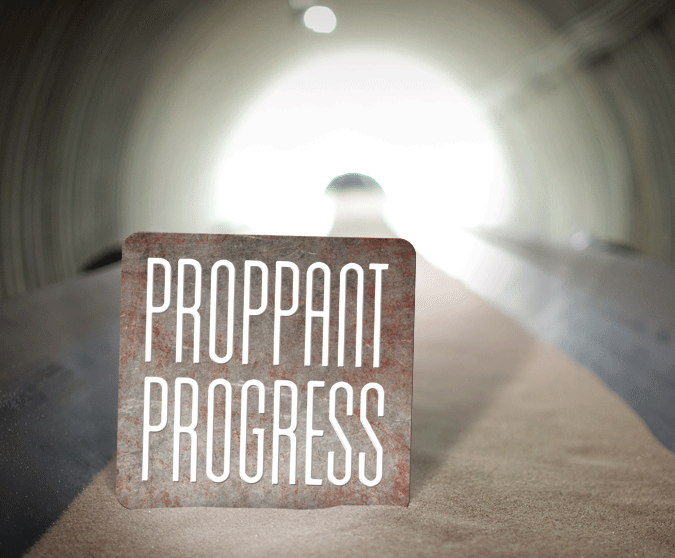 The proppant sector has been on its double-digit-per-annum growth curve for a while now, and the pace shows little sign of slowing, despite what some see as the risk of a glut in the wake of a swarm of new entrants. With the widespread application of substantial fracturing treatments for shale gas and tight oil completions and, according to some estimates, proppants often accounting for up to five per cent of the cost of a well, this hitherto somewhat obscure sector could soon acquire some heft within the industry as a whole.
New partnerships, capital infusions for research and more transport infrastructure for moving the growing tonnage of frac sand and other proppants are all part of the mix in this fast-evolving sector.
Northern Frac Proppants LLC (NFP), a self-described "emerging producer of monocrystalline sand [frac sand]," announced April 2 a multi-year agreement to supply Northern White frac sand to Carbo Ceramics's new processing plant in western Wisconsin. (Some of the most sought-after frac sand is mined in Wisconsin and other northern states.) Houston-based NFP is building a 145-acre sand mine and processing plant adjacent to Carbo's sand processing and resin-coating plant in Marshfield, Wis. The sand for the Carbo plant, however, will come from an existing NFP operation in Bluff View, Wis.
Also in early April, Santrol, a Fairmount Minerals company, announced the opening of the Santrol Technology Center, near company headquarters in Sugar Land, Texas. It replaces a research and development (R&D) facility in Fresno, Texas. The announcement said the new lab would help it expand its proppant portfolio. Besides, "pure research in pursuit of next-generation technology" work there will also include "engineering tougher, environmentally compliant proppants," the company said.
On the infrastructure side, the Oilfield Technology Group of Momentive Specialty
Chemicals Inc. announced in February the opening of a new transload facility in Colorado that should be well positioned to serve the Denver-Julesburg and Powder River basins.
Increased infrastructure to support the proppant sector in Canada is also underway. In late March, Claim Post Resources Inc., a mining company, announced that it had acquired 75 per cent of a parcel of leases in the Seymourville silica sands in Manitoba. Explaining its intent to develop the sands to provide proppant for oil and gas, the company noted that a large proportion of frac sand used in Canada is imported from the United States. Sand from Wisconsin is shipped to the Saskatchewan Bakken, and even to the Montney and Horn River in British Columbia.
Frac sand production in the United States has climbed from 13 million tonnes in 2010 to 22 million in 2011, with an estimated 28 million for 2012. Based on its assessment of average depletion rates in fracked oil and gas wells of around 30 per cent per year, Claim Post expects that "the tonnage of frac sand will continue to increase."
In Alberta, Athabasca Minerals Inc. hopes to be producing proppant from its Firebag Frac Sand Project on a 12,800-hectare property about 100 kilometres north of Fort McMurray by sometime in 2014. "We expect to be able to provide 20/40 mesh for plays like the Bakken and Viking," says Dean Stuart, who provides investor relations consulting for Athabasca Minerals.
(Proppant sizes are generally referred to by an API sieve size designation and typically range from eight to 140 mesh (106 micro­metres to 2.36 millimetres). A proppant with a 20/40 sieve cut would be one in which 90 per cent of the sand falls between those two sizes.)
The location of the company's planned frac facility should make it a fit for supplying other plays in western Canada, including the Duvernay with 70/140 mesh proppant, he says. Frac jobs in the
liquids-rich natural gas play can use as much as 2,000–3,000 tonnes per well, compared to 120–240 tonnes per well in oil plays.
LOGISTICAL CHALLENGES
Expansion in the proppant sector is driving the development of tailored logistical solutions. The proprietary Sandbox system from TBM Group of Companies uses modified shipping containers to transport proppant from the outlet facility to the lease, or it can be used for storage. Depending on density, a container holds typically 22–24 tonnes of proppant, says Claude Lavoie, president of TBM. The company also offers the PropMaster, a site storage system from Prop Equipment Systems Inc. whose containers can hold 130 tonnes and are designed specifically for proppant storage at a frac site or lease.
TBM Sand & Storage Logistics, LLC., the arm of TBM that offers the Sandbox and PropMaster, has two transload and storage facilities right now, one in San Antonio, Texas, and the other in Fort Saskatchewan, Alta. The company is scouting to add a couple more, with locations in North Dakota and southern California. Fabrication of TBM's Sandbox units is being done at plants in northern California and Oregon, where costs are lower than in western Canada, Lavoie says.
A logistics specialist with over two decades of experience providing transport and related solutions for the oil and gas industry, Lavoie has applied his expertise to the import and distribution of proppant products from Sichaun FultonTec Co. Ltd. The privately owned Chinese company has been exporting proppant to Canada since 2005 and to the United States since 2002.
Fulton offers a range of ceramic proppants—from high-strength 20/40 mesh with six per cent crush at 15,000 pounds per square inch (psi) pressure to ultra lightweight 40/80 mesh with seven per cent crush at 10,000 psi. The company also offers two grades of pre-cured resin-coated sand. "We have sand in China, but we're not allowed to export raw sand. But we can export coated sand," says Wilbert Fan, vice-president, international business, at FultonTec.
According to Fan, Fulton's ultra-light proppant, FTecUltra, has specs that are similar to those of equivalent products from other cer­amic proppant manufacturers. "It has at least twice the conductivity and permeability than those of sand-based proppants. It's much lighter than sand, meaning considerable savings on the pumping and frac fluid system. This is cost-effective for slickwater fracturing applications, as low-viscosity slickwater fluids require the use of smaller-diameter and lower-density proppants," he says.
Also, he says, as a chemically inert, sintered ceramic, the ultra-light proppant won't react with frac fluid chemicals, including cross-linkers and breakers.
Sand takes up between 80 and 90 per cent of the market with the remainder roughly split between ceramics and resin-coated proppants.
The downside of ceramics, of course, is their price. They are about four times more expensive than typical sand proppants that simply meet API/ISO specifications and requirements, Lavoie says. At a price point somewhere between the two lies resin-coated sand.
Resin coating strengthens proppant sand by distributing the pressure applied to each grain. It can encapsulate cracked grains of sand so its composition is held together and fewer fines are released into the fracture. Also, resin-coated proppants tend to work better at higher closure pressures than sand that hasn't been coated.
But resin-coated proppants are typically not at their best in
low-temperature formations. As a paper presented at the SPE
Unconventional Resources Conference in Calgary last fall pointed out, these proppants were originally designed for higher-temperature applications. This made most resin-coated proppants less than ideal for many tight oil plays in western Canada, including the Slave Point, Cardium, Bakken and Viking, where reservoirs typically have relatively low temperatures, as the paper noted.
At about the same time, in the fall 2012 edition of its company newsletter, Momentive announced that its Yukon Black low-temperature proppant was now available. The curable resin-coated proppant comes in 16/30 and 20/40 mesh sizes. "Incorporating
Momentive's newest Stress Bond resin technology, the proppant bonds in the fracture with closure stress, providing increased fracture flow capacity and proppant flow-back control," according to the newsletter. It also says that the new proppant provides "low-temperature bonding down to 21 degrees Celsius (70 degrees Fahrenheit) bottomhole static temperature without the use of a low-temperature consolidation aid."
Another Momentive proppant first introduced to the U.S. market in 2011 is called OilPlus. It is a curable resin-coated proppant geared for fracking in oil- and liquids-rich reservoirs.
With uncoated frac sand, water adheres to its surface, says the company. Since the water is not fully displaced, the space be­tween the proppants is blocked and the flow of oil is reduced. OilPlus's optimized resin system prevents water and oil from bonding to its surface, increasing the permeability to oil in the proppant pack and boosting production.
"Laboratory tests showed that OilPlus proppant demonstrated
283 per cent more oil flow through the proppant pack than conventional proppant," according to the company newsletter. The company now manufactures OilPlus proppant at its plant in Sturgeon County, Alta., and operates six transload facilities throughout western Canada.
Resin-coated sands, which rely on phenolic chemistry, were first used in the foundry industry for moulds. Salespeople looking to sell more product sought other markets, and a fit was found with the fracking sector, as coated sands enabled proppant to stay in a fracture because of their adhesive properties, says Bob McDaniel, vice-president of technology at Preferred Sands, LLC.
ENVIRONMENTALLY FRIENDLY
One of the drawbacks to phenolic-based resin coatings is that phenols and formaldehyde can leach out. As part of its mission to provide effective, environmentally safe products, Preferred has introduced RCS Pearl as an economic alternative to costly resin-coated and ceramic proppants, McDaniel says. (RCS stands for resin-coated sands.)
"Our coating has no phenol or formaldehyde. The chemistry involves polyurethane technology. It's environmentally friendly to make. Pearl's strong coating is non-toxic. It has a unique set of properties for hot, high-pressure applications, typically 200–350 degrees Fahrenheit, and for closure stresses from 6,000 to 10,000 psi. When you go into a deep, hot zone with phenolic coating—these are thermoset coatings—and the fracture takes a while to close, the proppant coating may have cured ahead of the fracture closing onto the proppant, with no adhesive properties left," he says.
Pearl's technology is designed to offer the advantages of both pre-curable and curable resins in one product, according to the
Preferred Sands website. "The Pearl adhesive is different and sidesteps the problem. Pearl does not cure after it leaves the plant and its adhesive properties are unaffected by downhole heat, so you still get adhesion, or bonding. The key is that when the fracture closes, the adhesion is still there," McDaniel says.
Proppant demand has apparently swollen the ranks of coated proppant suppliers. McDaniel says that about a dozen companies are now making resin-coated proppants, up from about three a few years ago, with most using the same phenolic technology. "Our price point is significantly lower than the phenolic competition," he says.
Another new proppant from Preferred, like Pearl, introduced in 2012, is RCS Garnet. It is designed for low-temperature formations, and is suited for wells in west Texas, Colorado, Alberta and Oklahoma. Unlike other resin proppants, which require an additive to get the phenolic coating to bond quickly enough in cooler wells, which, in turn, can affect the frac fluid, "all that Garnet needs is water in the frac fluid," McDaniel says. He adds that sales for the product have taken off, as many in the industry are familiar with coated proppant problems at low temperatures.
Preferred has a strategic alliance with The Dow Chemical
Company, which provides raw materials, but all the intellectual property belongs to Preferred, McDaniel says.
New additives for proppants are also entering the market. Sorb is a solid diatomaceous compound from Baker Hughes Incorporated with a large surface area that is added on site to the blender with sand. "It becomes part of the proppant stream. It needs to be adjusted for a few variables like formation pressure, temperature, etc.," says Virginia Wornstaff, a technical specialist at the Baker Hughes Calgary office.
The additive, which can account for between one and five per cent of the proppant, is designed to prevent blockages and sudden declines by keeping asphaltenes, scale and other formation fluid materials in suspension, and prevent deposition, says Wornstaff.
The range of formation conditions appears set to continue spurring R&D of targeted niche proppants. In concert with industry partners, the Petroleum Technology Alliance of Canada (PTAC) is involved in a couple of proppant R&D projects, says PTAC president Soheil Asgarpour. One involves R&D for an ultra-lightweight proppant with a high crush tolerance. The other is aimed at improving yields of natural gas liquids in gas wells.