Exclusive
Published: Tuesday, 01 September 2015
Author: Carter Haydu
One of the most dangerous jobs associated with the upstream oil and gas sector is also perhaps one of the most mundane—driving to and from the work site. Fortunately, the latest advancements in fleet management technology can help reduce the safety risks associated with this routine task by monitoring and collecting data, prompting better driving habits and mapping out more efficient transportation routes.
"If you can minimize that windshield time, then you protect those workers," says Geoff Scalf, head of business development, oil and gas division, at Telogis. Telematics can also help companies effectively manage and allocate transportation resources, he adds. "From a pure safety standpoint, location intelligence tells you not only how workers are driving, but also how much they are driving, as well as where they are driving and working."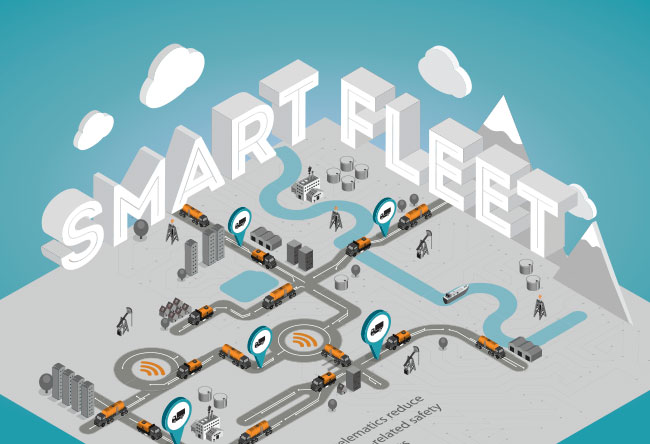 According to Enform's Journey Management: A Program Development Guide, between 2010 and 2014 in Alberta, British Columbia and Saskatchewan, vehicle-related injuries resulted in five per cent of Workers' Compensation injury claims in the oil and gas workplace, 13 per cent of claim costs and 24 per cent of days lost.
In-vehicle monitoring systems can assist in journey management, the report suggests, connecting workers
 to their supervisors through a communication system, interfacing with other workflow processes and monitoring lone workers in remote areas. They can provide global positioning system (GPS) location and mapping for drivers and administrators as well as vehicle telematics, hours-of-service monitoring and compliance assurance, and alertness monitoring.
Enform emphasizes that such technologies alone do not ensure a sufficient journey management program, although the associated data could provide feedback to stakeholders for development of continuous improvements and positive changes in driver behaviour—a sentiment shared by Colin Sutherland.
"Normally, a fleet that is managing their technology for safety and has an aggressive safety policy can reduce their claims costs on a vehicle by about 30 per cent," says the vice-president of sales at Geotab. He suggests safety-focused companies can expect dramatic operating-cost savings when strong, enforced corporate policy backs up the technology.
"I think what we are seeing now is an increasing trend that emerged in 2015, which is more about how to guide the fleet manager to be more specific on what actions to take with this data, as opposed to just looking at the data itself. So it is about the interpretation of the data on behalf of the fleet."
The oil and gas industry is so heavily regulated that it really is not a matter of deciding whether fleet management technologies are necessary, but rather figuring out the best way to deploy such technologies in order to meet those regulations, says Sutherland. For example: "In some cases, if you exceed the speed limit on the private roads created by the industry itself, often the entire business can be prohibited from driving on those roads.
"The industry polices itself on those private roads, and you cannot disobey the safety rules when it comes to speed or aggressive driving."
Electronic driver log (ELD) technology designed by inthinc Technology Solutions ensures compliance with corporate and jurisdictional rules—an attractive feature for major oil and gas producers in both Canada and the U.S. that are using fleet-management technologies to guarantee compliance with government, local and corporate policies.
"When a driver gets inside a vehicle equipped with our ELD technology, as soon as he puts the vehicle in drive
it automatically registers him as 'on-duty driving' and starts the clock in accordance with the legislated rule set assigned to him," explains Lisa Cooper, inthinc's vice-president of Canadian sales.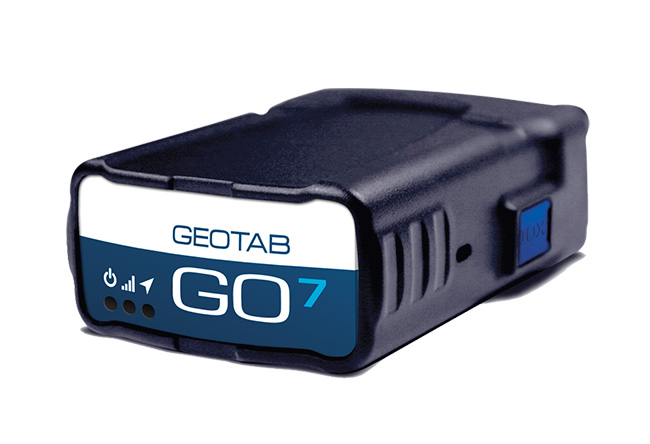 KEEPING TRACK: Geotab's GO7 device can perform several functions, from providing diagnostics on vehicle condition to tracking the speed and location of vehicles, providing real-time coaching and tracking lone workers in the field. (PHOTO: GEOTAB)
RACE CAR LEGACY
What started out as a black box technology company combating fraudulent insurance claims in the mid-
1990s was quickly transformed with the tragic death 
of race car driver Dale Earnhardt in 2001. Recognizing
the increasing dangers associated with the sport, the National Association for Stock Car Auto Racing (NASCAR) established a relationship with inthinc to have race cars equipped with black boxes.
"Installed inside the vehicles, the data-recording technology gathered critical vehicle and driver data, allowing [NASCAR] to create significantly safer racetracks, safer barriers and most importantly safer cars," says Cooper. Major oil and gas producers took note of this technology and solicited the Utah-based company to work with their fleets as well. The end product: a technology that enables oilfield drivers to operate with greater safety and efficiency.
"We really are saving lives in this marketplace. The clients we work with truly are helping their employees arrive home safe to their families at the end of the day."
A more recent product offering, the waySmart Connect, leverages the world of expansive mobile apps for fleet managers and drivers, providing a true mobile solution for optimizing fleet operations with the ease
 of a download. "You choose the apps your drivers need to effectively complete their job and which ones they don't, making your entire fleet more safe, efficient and compliant," notes Corey Catten, chief technology officer at inthinc.
According to an inthinc case study, within six months of installing the waySmart solution, the participating oil services company experienced a 300 per cent increase in safe driving behaviour, a 97 
per cent reduction in speeding violations, an 89 per cent reduction in aggressive driving and a 57 per cent increase in seatbelt use, saving the company $18 million in one year alone.
"The in-cab device actually coaches drivers to check their speed. It compares current speed of the vehicle against posted speed limits, and then coaches the driver to check their speed," adds Cooper. "Additionally, when a driver gets in his vehicle, puts it in drive and pulls away from his parking space without buckling his seatbelt, the device will remind him to do so."
The inthinc solution verbally coaches drivers in real time to discourage aggressive driving behaviors such as rapid accelerations, sharp turns and hard braking. Additional mentoring for seatbelt use, excessive idling and smartZone geofencing are standard system features.
With inthinc's in-cab verbal prompting, the driver can correct poor driving behaviour in real time. If the driver ignores the verbal coaching, then inthinc's risk profile can alert management immediately. Management can then assess the employee's overall driving habits for safety and identify areas needing improvement and/or training.
GAME OF PROMPTING BETTER HABITS
Telogis Coach is part of a multi-pronged approach to driver safety, which includes real-time, in-cab alerting when an employee exceeds a company threshold, as well as the gamification of driver safety by allowing employees to see how they rank amongst their peers.
"They can see what their driving score is and if they are moving up or down the leaderboard," Scalf says, adding most employees want to manage their own driving behaviour without necessarily being confronted by a supervisor, and a mobile arena for competition amongst coworkers does that while also appealing to many younger "gamer" employees in the oil and gas sector.
"What we have seen with fleets out in the operator space is they may have somewhere between three to four speeding incidences per 100 miles. However, once they turn on the in-cab alerting and follow up with the scorecard, they will drop that [incident rate] typically down to 0.5 [speeding incidences] or lower per 100 miles driven, due to the driver's awareness of what is expected of him...both through Telogis Coach and the in-cab alerting.
"However, it is also about the driver being aware that someone in management is actually looking at this and is aware of how [he] is driving."
With InSight Alerts, Telogis provides real-time alerting and notifications in accordance with a company's particular rules. "There are probably 500 to 700 different canned alerts customers can go in and set up," Scalf says. "They can select the alerts, select the thresholds and select when it is active." Supervisors can quickly view how adherences to such things as maintenance and driver performance rules are trending within the fleet, he adds.
"They have that control over the reporting if they choose to have a multi-condition alert. So maybe they want to know when the tire pressure is low and the driver is speeding over 80 miles per hour. They can create that level of sophistication in their alerts."
One of Telogis's strengths is it builds software, not hardware, and can therefore leverage the latest and greatest hardware technologies available on the market from those companies that do build the physical components. Telogis is the only telematics company with a direct original equipment manufacturer strategy, Scalf notes, and the technology can support everything from a frac tank to an all-terrain vehicle, a pickup truck to a heavy-duty tractor unit.
The ability of Geotab's GO7 device to collect safety information within a fleet and automatically verbally coach drivers when aggressive driving habits are detected also appeals to Canadian producers, Sutherland says. "So if [the driver] speeds, then rather than the device just beeping at the driver, it will speak to him and say, 'excessive speed.' If he is not wearing a seatbelt, then it will say, 'seatbelt unbuckled.' It is a real-time, in-vehicle coaching tool."
Geotab's application in the energy sector is extensive and crosses a range of equipment, he adds. "We are literally in everything from remote diesel generators that are operating in the field, right up the pipeline to ATVs to pickup trucks to Class-A highway tractor trailers.... We are literally in every make and model of vehicle that you can imagine. There really is not any limit at all."
LIFELINE FOR MOBILE WORKERS
Geotab's GO7 device plugs directly into a vehicle's OBDII port (or an adapter) to provide diagnostics on the health of the vehicle, while the accelerometer keeps track of speed and the GPS component tracks location, Sutherland says. The device also helps keep workers safe when they are alone in the field.
"In places like Alberta, you cannot work alone unless you have a compliant technology that protects the safety of the individual. You need a panic button. You have to have a distress signal. Sometimes cellular does not work and so you must have an Iridium satellite [connection, Iridium Communications' worldwide satellite communications system] that works even if there is no cellular coverage. By and large, the oil and gas sector has been an early adopter in telematics, really for the safety of those individual, lone workers."
Expandability for add-on peripherals is part of the Geotab's base platform, he notes. For the oil and gas sector, a popular add-on component is the panic button, which connects to a waist-belt device that when activated within a 300-metre range of the GO7 will transmit an alert via satellite or cellular signal to the proper authorities.
"Your car will start to honk as an alert, and only when the call centre has confirmed receiving the distress signal will beeping of the car stop," he says. "You can be assured that as soon as you are in trouble, you sent your distress [signal] because when the alarm in your car goes quiet you know you have actually been heard and someone has received the distress signal, which is great."
Built-in accelerometers enable inthinc to alert a customer's HSE department for immediate response in the event of a vehicular collision or rollover, notes Cooper. The inthinc solution—currently installed in about 47,000 vehicles, predominantly throughout North America—can also issue useful advisories across the fleet.
"We can alert drivers before they enter a hazardous area to watch their speed, be careful of passing, or whatever the message is that must be displayed," further explains Cooper. She says the power of their road hazard awareness is that it is customizable and can account for road condition scenarios such as road construction, black ice, severe storms or anything else—a handy tool for drivers to stay informed, and to inform other fleet operators.
Drivers can simply pull over and set up on-the-spot messages alerting other drivers if there is a problem when driving into the area. The message is automatically relayed to dispatch, who can then approve the alert and notify other drivers, keeping the fleet safer and more efficient.
Companies experience a 70–80 per cent safety improvement after using Telogis solutions, measured on the number of alerts for speeding, seatbelts, hard accelerations, traditional safety metrics and incident rates, Scalf says. Those changes translate directly into employee safety.
"Safety is always at the forefront of everybody's mind in the oil and gas space. Safety is about driver safety, which is typically how most people think about telematics and safety in the oilfield. However, it is also about knowing when your guys go in and out of hazardous sites—H2S wellsites and H2S fields. It is also about how much time employees are spending behind that windshield."
-NTM-